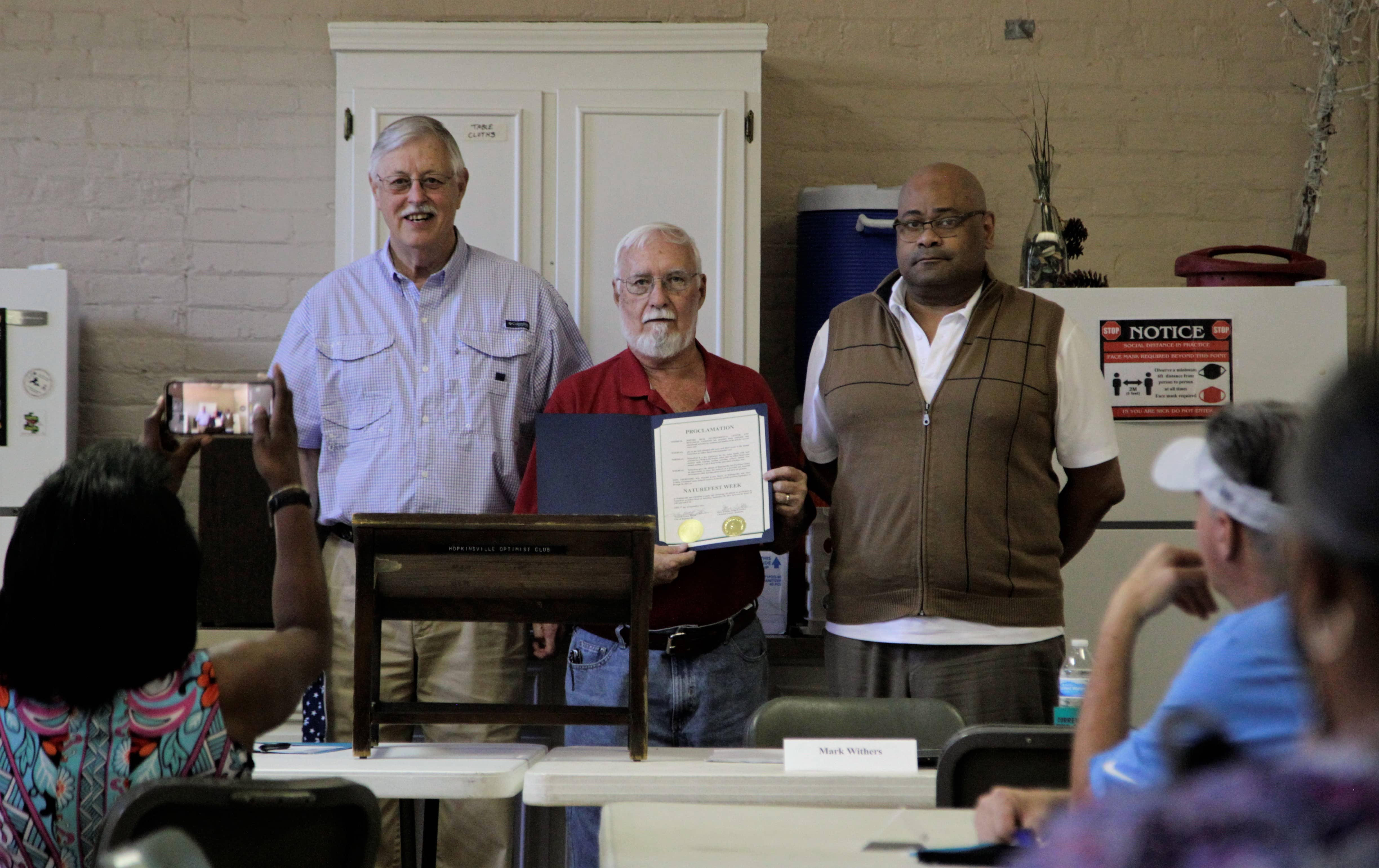 The Jeffers' Bend Environmental Center in Hopkinsville is set to come alive once again from September 13-18, as Christian County Judge-Executive Steve Tribble and City Administrative Officer Troy Body were on hand Tuesday afternoon for an on-site proclamation — declaring the six-day celebration "NatureFest Week."
Following five weekdays of small and targeted programming, the event will conclude with the heavily-anticipated "2021 NatureFest" — which will provide more than 40 events and topics for kids and their families to learn and enjoy, including canoeing, storytelling, outdoor survivor skills, recycling, archery, Native American heritage, birding, insects, forestry and wildlife.
Since 2003, the event — as well as the property — has undergone several transformations and improvements, which is the entire thesis of what "NatureFest Week" means to the regional community.
From 2003 to 2019, Pennyrile Resource Conservation and Development Council volunteer coordinator Charles Turner said more than 100 elementary and middle-school-aged children were typically on hand for such a proclamation — especially since "NatureFest Week" impacts them the most.
However, COVID-19 concerns have made those hopes more difficult in the last two years, but it hasn't slowed the momentum for the event.
The Jeffers' Bend Steering Committee, as well as representatives from the PADD office, were on hand for the proclamation — one that Steering Bend Committee Chair Mark Withers said highlights the efforts of many individuals and organizations from the last two decades.
On Monday, September 13, the public is encouraged to walk the nearly three miles of extensive trails in and around Jeffers Bend, allowing for the opportunity of exercise in a quiet environment while observing birds, squirrels, wild turkey, various trees and plants — in what should be a wide range of local flora and fauna native to Christian County.
On Tuesday, September 14, visitors will be asked to take in a variety of crafted gardens on the premises, including a new botanical garden, a community garden, a rain garden, a child's garden and a master gardener's plot.
On Wednesday, September 15, birdwatchers and avian enthusiasts can bring bird seed to the Jeffers Center Welcome Center, with the bird seed going toward on-site feeders and frequent fliers in the area.
On Thursday, September 16, those same birdwatchers and enthusiasts are invited to visit the bird observatory for bird feeding.
On Friday, September 17, volunteers will be on hand at the Jeffers Bend Welcome Center to discuss the history of the property, as well as recent accomplishments and ongoing programs surrounding the facility.
On Saturday, September 18, the week will culminate with its annual "NatureFest" event from 1-5 p.m., which will include more than 40 different on-site activities open to the public. This includes archery, canoeing, storytelling, face painting, visits from several animals (including horses), pumpkin painting, a crawl through a soil tunnel, a walk in the woods, some targeted activities for local Boy Scouts of America troops, and more. The 2021 event will place a special focus on health and wellness — courtesy of support from Jennie Stuart Medical Center, the Christian County Medical Center, the Pennyrile Area Development District and more.
At the close of Saturday, September 18 activities, a "Celebration of Life" Ceremony will be held at the Jeffers' Bend Patio until 6:30 p.m.
For more information, contact officials from Jeffers Bend at (270) 885-5600, email Charles Turner, Pennyrile Resource Conservation and Development coordinator, at turner1224@gmail.com, or visit their website at jeffersbend.wordpress.com.
Jeffers' Bend Proclamation